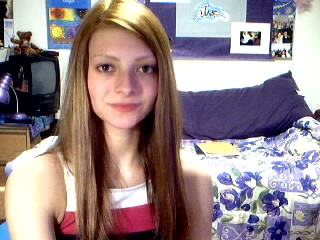 Hello! Thanks for comming to the Brian Jones Experience! Here is a little questionaire to help you get to know me better!
Name: Nicole
Age: 20
Location: Boston, Ma
Height: 5'2, I'm tiny!
Hair: Light Strawberry Blond, unlike the outdated pic of me on this page! It's also now to my chin
Occupation: Full time College Student(Pre-Law), Part time Toddler Teacher
Favorite Bands: The Rolling Stones, The Beatles, The Who, The Hives, Crosby, Stills, Nash and Young, The Hollies, Bob Marley and the Wailers, Santana, Led Zeppelin, The Yardbirds, The Beach Boys, The Clash, The Sex Pistols, The Ramones, Ashley Macissac, Billy Idol
Best Concert Experience: Well, seeing the Stones twice was amazing, but I would have to say that when Mike Love of the Beach Boys pulled me up on stage to dance and sing to "Barbara Ann" and then invited me backstage, that was the best!
Concerts I've Seen: This is a long one! The Monkees, The Who(twice, in 97' and 01'), Roger Daltrey solo, The Stones( in 97' 02', and 03'), Santana, Green Day, The Mighty Mighty Bosstones, The Counting Crows, Live, The Beach Boys
Car: A 2000 Vw Beetle
Pets: Gwendolyn, a three year old Golden Retriever, and Peter Townshend, a one year old Golden Retriever
Favorite Foods: I have severe food allergies, so I can't eat much. But I do enjoy veggie sushi(I'm Vegetarian), white rice, Gluten/dairy/egg/yeast free cookies and cereal, and rice milk
Favorite Beatle: Tie between George and John
Idols: Audrey Hepburn, Linda McCartney, Marilyn Monroe, Marianne Faithfull